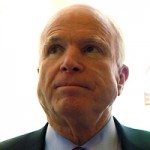 Seen by many as the politician leading the charge for military intervention in Syria, Senator John McCain has been fighting for the United States to get involved since the start of the conflict in 2011. Fed up with government red tape and inaction, Senator McCain planned a secret trip to Syria where he met with Free Syrian Army commanders.
Recently, McCain's trip to Syria has resurfaced in the news as false evidence in Senator Rand Paul's case against the U.S. arming of moderate rebel groups to help combat the Islamic State.
For more on this developing story and an exclusive clip from the film about McCain's trip to Syria, click here.