DVD
Red Lines is now available on DVD. Order your DVD here.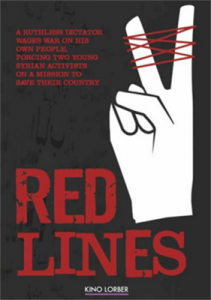 Soundtrack
Original score from the acclaimed composer Armand Amar (Blame It on Fidel; Le Concert), an original composition by world-renowned Syrian clarinetist Kinan Azmeh (9 Days of Solitude: the Damascus Session; Letters to a Homeland), and Syrian musician-in-exile Amira Basha.
Store
Visit Spark Media's store for the official Red Lines poster and T-shirts, featuring the beautiful design by R.A. – a Syrian artist currently living in exile. All profits go towards programming and outreach efforts to inspire change and bring peace to the region.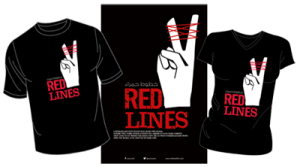 Upcoming Screenings
Request a screening: info@sparkmedia.org
Past Screenings
Sydney, Australia – WOW Film Festival, April 30, 2016
Ath, Belgium – Maison Culturelle D'Ath, April 21, 2016
New Paltz, NY – Amnesty International, April 19, 2016
Geneva, Switzerland – Graduate Institute Cine-IHEID Film Series, April 13, 2016
StarDoc International Film Festival – March 25 – 27, 2016
Waukesha, WI – UNAFF Traveling Film Festival at Carroll University, March 16, 2016
Conway, AR – University of Central Arkansas, March 2, 2016
Tournai, Belgium – Ramdam Festival, January 24 & 25, 2016
Zurich, Switzerland – Human Rights Watch Film Festival, December 13, 2015
Waterloo, Canada – Wilfrid Laurier University, December 10, 2015
Denver, Co – Mesa FilmFest, November 21, 2015
Cedar City, UT – Red Rock Film Festival, November 6, 2015
Manhattan, NY – The Brotherhood Synagogue, November 5, 2015
Brussels, Belgium – Festival des Libertes, October 25, 2015
Haifa, Israel – Haifa Cinematheque, October 14, 2015
Tel Aviv, Israel – Tel Aviv Cinematheque, October 9, 2015
Jerusalem, Israel – Jerusalem Cinematheque, October 8, 2015
Kingston, Ontario – The Screening Room, October 4, 2015
Denver, Colorado – DocuWest International Film Festival, September 12, 2015
Washington, DC – United States Holocaust Memorial Museum, July 9, 2015
Waterloo, Canada – Centre for International Governance Innovation
Tel Aviv, Israel – Docaviv International Documentary Film Festival, May 9 & 13, 2015
Hanover, NH – Dartmouth College, May 12, 2015
Brussels, Belgium – One World : Brussels, May 5, 2015
Göteborg, Sweden – Utrikespolitiska föreningen Göteborg, April 29, 2015
Tiburon, CA – Tiburon International Film Festival, April 15, 2015
Washington, DC – Congressional Screening on Capitol Hill, April 8, 2015
Boston, MA – WAM! Boston Film Festival, March 21, 2015
Prague, Czech Republic – One World International Human Rights Documentary Film Festival, March 3, 6, and 10, 2015
Washington, DC – American University, February 18, 2015
Washington, DC – Georgetown University, February 9, 2015
Sofia, Bulgaria – Sofia MENAR Film Festival, January 28 & 30, 2015
Mumbai, India – Mumbai Women's International Film Festival, December 11, 2014
Washington, DC – United States Institute of Peace, December 8, 2014
Lisbon, Portugal – Rotas e Rituais, November 17, 2014
Wilmington, NC – Cucalorus Film Festival, November 14, 2014
Mexico City, Mexico – DocsDF, October 31 & November 1-3, 2014
San Francisco, CA – UNAFF International Documentary Film Festival, October 25, 2014
Woodstock, NY – US Premiere, Woodstock Film Festival, October 17 & 19, 2014
Little Rock, AR – New Little Rock Film Festival Film Series, University of Arkansas Clinton School of Public Service, October 8, 2014
Conway, AR – University of Central Arkansas College of Fine Arts and Communication, October 7, 2014
Budapest, Hungary – Budapest International Documentary Festival, September 26, 2014
London, England – UK Premiere, DocHouse, September 25, 2014
Washington, DC – Washington Institute for Near East Policy, July 9, 2014
Oslo, Norway – Oslo Dokumentarkino, May 14, 2014
Toronto, Canada – World Premiere, Hot Docs International Documentary Festival, April 29, 30 & May 2, 2014